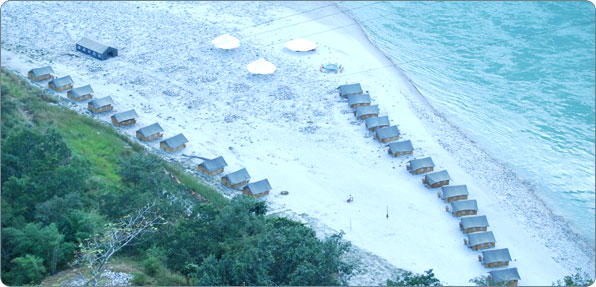 Whether you are a harried corporate professional desperately seeking an outing, or a couple on a quest to taste some adventure in the fresh air of the hills, or a family on a vacation…whatever the mood or the motivation. When things become too crowded and some casual recreation is needed, Camp Gold Coast is an excellent getaway option. Don't think much. Just hit the road for Camp Gold Coast in Rishikesh and beat away the city blues. 260 kms from Delhi and 30 kms from Rishikesh, on the Rishikesh Devprayag road, a drive of 5-6 hours would take you to this biggest rafting camp of the country on the banks of river Ganga.
Camp Gold Coast serves as an ideal base for adventure activities in the Himalayas. The tented river camp offers complete outdoor experience with white-water rafting at its very best. The river course consists of some stunning combinations of twists and turns of white rapids, hidden pools and waterfalls. Fun filled beach games and activities like rock climbing, rappelling and trekking… From novice to pro, there is an unlimited fun and adventure for everyone.
And, for the not so adventurous, a great holiday to put their feet up & relax, with a few lazy walks thrown in. The atmosphere at the beach is quiet and peaceful and it is well worth spending time in the natural surroundings. Also, the riverside leisure camp is an ideal oasis regime for yoga, meditation and mind expansion. Followed by good food, soulful music, campfire tales, company of new found friends, sound of the forest, the fast-flowing river and innumerable sandy spots to sleep under the stars; Camp Gold Coast has everything to make you fall in love with the place.
For people with more time on their hands, we recommend self-contained, multi-day rafting expeditions on the tributaries of the holy Ganga, the Alaknanda and the Bhagirathi, both of which are possible within 6-9 days from Devprayag. Spend your weekend with family and friends. Camp Gold Coast beach comes with all the modern amenities possible, offering the best of the services to travellers from all parts of the world.